The case for a circular economy…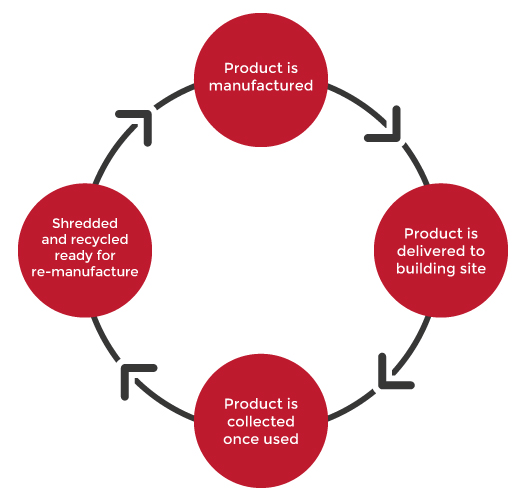 It is widely believed that expanding the circular economy could create more than 200,000 new jobs in the UK – many within the construction industry.  Other EU countries could reap similar benefits.
The World Economic Forum describes a "circular economy" as an industrial system that is restorative or regenerative by intention, and design. It estimates that the global economic benefit of transitioning to this new business model could be worth more than one trillion dollars in material savings.
Corilla Plastics recently undertook a feasibility study into the development of a twin skin mortar tub product, that incorporates partly recycled rubber crumb. Delivered by Resilience Sustainable Solutions Ltd and funded by WRAP Cymru through the Remade programme, Corilla's Mortar Tub Project explored the potential business and cost benefits of a collection model and increased in-house treatment capacity.
The project presents an opportunity for Corilla to develop a circular economy model, both for existing, and new products.  It is believed the new product, incorporating rubber crumb, would be more resilient and robust, thereby extending first life use.  An incentivised return collection model would facilitate the return of material for reuse, thereby reducing the need to utilise more raw material, thus reducing waste.
Corilla approached WRAP Cymru seeking support towards the development of a twin skin mortar tub product that incorporates a percentage of recycled rubber crumb mixed with PE.  The benefits would not only include a more resilient product that has a longer life span, but the incorporation of a waste material and increased reprocessing capacity for recycled products in Wales.  Corilla is also interested in developing a circular economy model of rental or incentivised return for the new product. Specifically, the company is seeking support for the utilisation of increased recycled material in the mortar carrier product.
As part of the study, market research identified a clear interest in the development and provided useful information with regards to the practicalities of offering a collection service.  The majority of interviewees were also interested in an incentivised return model for their waste mortar tubs.
Currently Corilla has on-site capability to shred and granulate waste PE from the manufacturing process and returns, however they have to send granules to a separate company to be pulverised into a powder suitable for use in the manufacturing process.   The study investigated the cost benefit of investing in an on-site pulverising machine to process PE granulate into powder.
The study concluded that purchasing of a PE pulveriser and introducing an incentivised return policy would generate at least one additional position for an operative within Corilla.  Based on 2014 sales figures of twin skin mortar tub products  –  4,248  in total  –  a return rate of 30% (1,285) would result in 25,704Kg (25.7 tonnes) of material being reclaimed for reuse in the manufacturing process.
Whilst more work needs to be done on product development and a more detailed business case is required for major capital investment, the study has presented Corilla Plastics with a compelling case in a number of areas that will inevitably reduce production costs, create jobs and develop an innovative circular economy model.
https://dragonbuilding.co.uk/wp-content/uploads/2016/10/dragon-process.jpg
498
520
admin1
https://dragonbuilding.co.uk/wp-content/uploads/2020/06/dragon_logo-2.png
admin1
2016-10-04 13:24:20
2016-10-04 13:24:20
The case for a circular economy…