Striving for a Win with Twin-Skin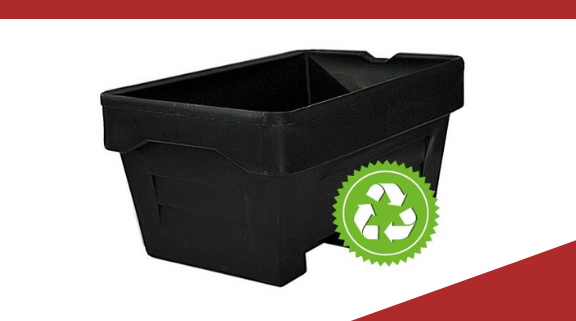 As leading manufacturers in the production of plastic building products, our high-quality, durable and reliable commodities have been the foundation of our success. We also recognise that 'plastic' has been tarred with a broad bad brush over the last few years and we've worked hard to do our bit in making sure that our manufacturing processes have minimal environmental impact.
That said, it's also important to remember that not all plastic is bad. At Dragon Building Products, our much loved mortar tubs and other construction commodities are not single use plastic that are bad for the environment. In fact, they find themselves widely used (and re-used) in building sites across the UK, supporting our housebuilders and construction workers to meet the needs of our growing population.
However, the plastic problem is important and what does resonate with us is sustainability. That's why we've already been doing our bit for the environment by manufacturing a range of tubs with recycled content.
But recently, we've gone one step further…
Recycled products in construction can be faced with some resistance over the perception that they are less robust in comparison to virgin materials. Also, there can be more stringent requirements for industrial use.
Using our twin-skin mortar tubs, our sister company, Corilla Plastics is working with Resilience Sustainable Solutions Ltd, Cardiff University and Green Edge Applications on the research and development of sustainable manufacturing solutions for the construction industry, spearheaded by WRAP Cymru and funded by the Welsh Government.
The project, which is coming to the end of its first of three stages, is aiming to reach up to 80% – 100% recyclate without compromising on quality of the twin-skin mortar tubs. The project will also be aiming to establish a circular economy model to collect waste mortar tubs to be re-manufactured. This will help to overcome the challenge of sourcing suitable recycled material and creating a neat closed loop recycling system.
The entire Corilla Group is incredibly excited about this project and is committed to exploring sustainable means of plastic manufacture. To find out more about the project as a whole, read Corilla Plastics' blog here.
https://dragonbuilding.co.uk/wp-content/uploads/2020/03/Twin-Skin-Win-1.png
458
576
admin1
https://dragonbuilding.co.uk/wp-content/uploads/2020/06/dragon_logo-2.png
admin1
2020-03-06 16:45:21
2020-10-07 15:29:45
Striving for a Win with Twin-Skin